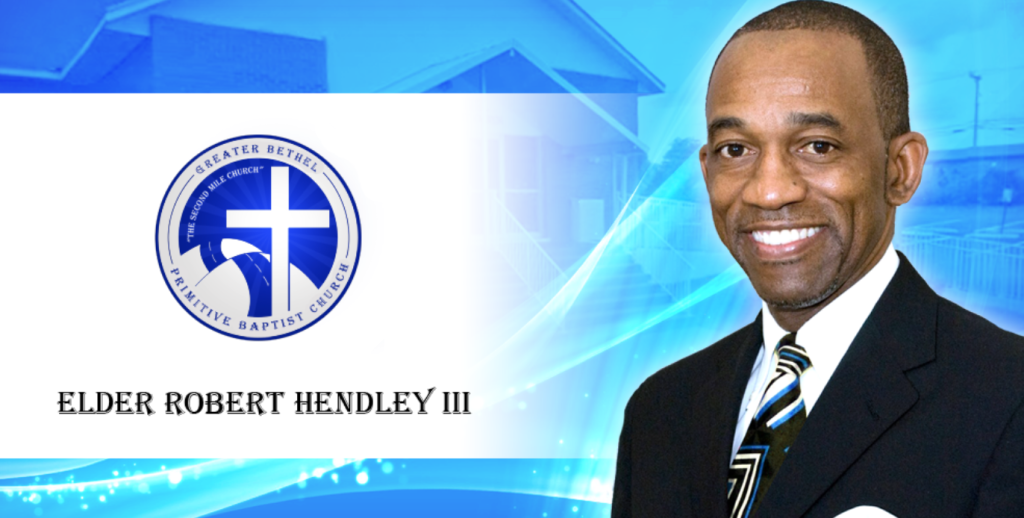 Elder Robert Hendley III is the pastor of Greater Bethel Primitive Baptist Church, a flourishing church on the move for the upbuilding of God's Kingdom. Our pastor is highly regarded for his passionate love for people and his undeniable call to preach and teach the Gospel of Jesus Christ.
In August 2007, Elder Robert accepted his call in the ministry. It was about a year later, that he was chosen to pastor Greater Bethel Primitive Baptist Church (G.B.P.B.C.).
He accepted the task of working to renew faith, love, and hope to the people of God. His positive approach toward the work of the church proved to be vital for the spiritual tone of the worship services, renewed stewardship commitment, sustained Bible teaching and a greater involvement for our youth.
He is married to the former LaJune Williams and is the father of three beautiful daughters: La Chelle, Robrielle, and Jenelle.
God has truly blessed Elder Robert Hendley III and it is our prayer that God continues to have his hands upon our leader for years to come.
As Pastor Robert affirms before every sermon he preaches:
"I am only one, but I am one, I can not do all things, but I can do some things. What I can do, I ought to do, what I ought to do, by the grace of God I will do. Therefore, if I can help someone as I pass along, if I can cheer someone with a word or a song, if I can show someone he's traveling wrong, then my life will not be in vain."
It is with this in mind that Pastor Robert submits himself to the will of God.